News
Peggy and Sonic Calligraphy at the VOXFEST at Cornelia Street Cafe in NY in August 2017
In August, Peggy will perform  with Sonic Calligraphy a one set program of Chinese folksongs, poetry, originals, and jazz standards at Cornelia Street Cafe. Special guest, NY trombonist Chris Washburne will join her and Swiss pianist, Adrian Frey.

August 22, Sonic Calligraphy
Peggy Chew, voc., Chris Washburne, trombone, Adrian Frey, piano

Cornelia Street Cafe
29 Cornelia Street
New York  212 989 9319

Concert from 8 to 9 pm, one set only
$10 cover, $10 minimum



Peggy at the Lebewohlfabrik, Zurich in December 2015

Lebewohlfabrik
Fröhlichstr. 23
Zurich, 044 382 16 26

Concerts begin at 6pm
(Entrance free, Donation)

December 1, Sonic Calligraphy
Peggy Chew (voc), Silvan Schmid (tp), Adrian Frey (p), Willy Kotoun (perc)

December 8, Peggy Chew and Strings - Songs of Joni Mitchell, Randy Newman and Paul Simon
Peggy Chew (voc), Marion Namestnik (vl and voc), Silvan Jeger (b and voc)

December 15, Peggy Chew and Friends - In and Out of Love with Billie Holiday and Frank Sinatra
Peggy Chew (voc), Walter Jauslin (p), Patrick Sommer (b), Pius Baschnagel (dr)

December 22, A Jolly Christmas with the Peggy Chew Trio and Special Guest, Robert Ashby
Peggy Chew (voc), Adrian Frey (p),  Christoph Grab (ts, ss),  Robert Ashby (p)

In the first set, the Peggy Chew Trio will play holiday songs to celebrate Yuletide. In the second set, Peggy will conduct a Christmas sing-along with the public to the humorous and elegant accompaniment of Robert Ashby on piano.

In Winterthur at the Esse Music Bar with Sonic Calligraphy
Peggy Chew, (voc), Silvan Schmid (tp), Adrian Frey (p), Willy Kotoun (perc)

December 10, Sonic Calligraphy
Esse Music Bar
Rudolfstr. 4
Winterthur, 052 202 57 46

Concert begins at 20:15
(Entrance free, Donation)




Back to China for the Second Time
In September 2007, "Sonic Calligraphy" toured China with several concerts in Hong Kong, Kunshan and Shanghai. Joining them on this musical journey was Willy Kotoun on percussion.  It was the second China tour for Peggy and Adrian after their duo appearances on the mainland in 2002.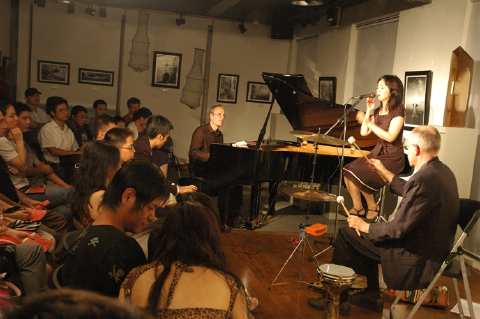 Live in Shanghai, 2007
From California to Brazil to Switzerland
In October 2006, Peggy performed at the Sanchez Concert Hall in Pacifica, California with Adrian Frey, piano and the American rhythm section of John Wiitala, bass and Jon Arkin, drums. The concert was reviewed in the Pacifica Tribune:
"Smart music fuse of culture without boundaries…the vision of Sonic Calligraphy…The Chinese tune "Lan Hua Hua" (The Orchid) was hip,catchy and hot…"Li Bai's Mood" (Frey) accompanied by the words of an ancient Chinese poem "Quiet Night Thoughts" spotlighted Chew's eloquent vocal charm inside a whirl of expressive percussion. The extraordinary musicianship of Sonic Calligraphy is obvious."
Pacifica Tribune,
October 2006
In January and February 2007, Peggy Chew and Adrian Frey shared musical experiences in Brazil where they participated in jam sessions and concerts in Rio de Janeiro and Joao Pessoa.
In May 2007, Peggy was a guest soloist of the JCT All Stars in Thalwil, Switzerland as part of the International Thalwil Jazz Weekend.
Upcoming Concerts with Sonic Calligraphy:
Peggy Chew, vocals
Adrian Frey, piano
Willy Kotoun, percussion
August 25, 2007, Saturday - 11am
Villa Sträuli
Museumstr. 60
Winterthur
November 18, 2007, Sunday - 3:30 pm
Theater Rigiblick
Germaniastr. 99
Zürich

---